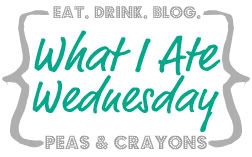 I originally started WIAW for a few reasons - meet new bloggers, find new recipes & to encourage myself to try new foods - mainly vegetable related as that is my weakness (love veg - can't be bothered preparing it) But I've gotten a bit lazy with it and end up just taking pictures when I eat something interesting - and mainly only stealing recipes for sweet foods ;). Oh well, at least I'm trying! :)
Here's some eats from the last week or so.
One of the ugliest bowls of oats - steel cut oats soaked overnight and then cooked in the microwave this morning, mixed with a banana, tbsp maple syrup, cinnamon and about a tsp of peanut flour. Great combination :D
Peanut butter protein cookie by Titan. Only seem to be able to buy these at my gym, but it was sooo good! Soft and gooey like a cookie should be. Should definitely try making my own.
These were some peanut flour pancakes that didn't really go to plan... needed waaay more liquid because they were super tiny and fat. Tasted great though! Topped with mixed berries & cottage cheese.
A packed breakfast for Sunday since I was out all day Sat up until Sunday afternoon. Chocolate Hazelnut milk + Dark Choc, Cranberry & Almond Bar.
Packed snacks for Sunday - cherry tomatoes, blueberries & medjool dates.
Saturday's packed lunch - my attempt at a bento box!! Included: 1 PB & J sandwich (in roll-up form), chocolate animal cookies, 2 medjool dates (stuffed with chocolate cookies), blueberries & a luna bar (nutz over chocolate?)
This was a bit of a challenge... was over a friend's place one night and we had cocktails and chocolates. First time I tried Blue Caracao... wasn't a huge fan!
A peanut & choc chip banana bread from the freezer, yummooo
Gummy vitamins... cheers to whoever's blog I saw these on. Best way to get vitamins ever :D Who cares if the packet has "Kid's vitamins" on it hehehehehe.
Here's my workout for today - I missed the BodyPump class I was going to attend due to my car having a flat battery, so I devised my own home circuit. This is copied from dailymile:
Missed BodyPump but made up for it with a wicked home circuit. Had 10 "stations" with bits of paper telling me what to do (something I do often) and went around in a circle in the room 3 times (no rests). All weights used 2.5 kg per hand (or bodyweight)
1st station: Biceps x 15 & 1 min wall squat.
2nd station: chest press x 15 & tricep dips x 15
3: Lunges 15 each leg & bicycle squat thing
4: Shoulder lift thing x 15 & shoulder side lift thing x 15
5: wall squat again
6: 15 x pushups
7: situps with medicine ball x 15
8: squats with medicine ball x 15 & upright row x 15
9: plank 1 min + side plank each side 30 seconds
10: deadlifts x 15 + army situps x 15
After doing that 3 times I did this mini circuit once (all the exercises I hate ;)
mountain climbers x 15
burpees x 15
turkish getups x 15
toe taps x 15
jackknifes x 15
And then lay down for five minutes catching my breath ;)
It was a pretty good circuit, might have to repeat it next time! Definitely had my heart going a lot more than in a BodyPump class.