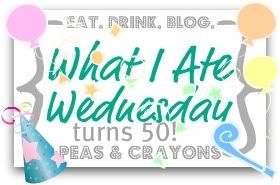 Yay! 50th WIAW... can't believe it's been going that long.
I will preface this WIAW by saying that I haven't logged everything I ate today - and that also it was a lighter eating day since I was crook all day. I was pretty bummed. Kickboxing went back last night (after Christmas break), and a migraine started to develop so I went to bed early. Unfortunately it persisted through today, so I can't go tonight either. And then I'm going away for two weeks again with work! D'oh!
So I spent today watching trashy TV like "Glamour mums" and "Dance mums" haha. They're fascinating... what can I say... and also rummaging through my massive pile of running magazines and pulling out inspirational bits to keep. While the migraine came with lovely nausea & epic bloating, that can never put me totally off food. I love it too much.
Anyway, without further adou / adieu / ado???? here is the food.
A weird creation I made over Christmas break - chocolate cherry bread with eggnog & using chickpea flour. A little too chickpea-ish, but yummy all the same.
The best lunch ever. It looks pretty simple.. but it was so tasty!
1: Ricotta with blackcurrant jam on four seed bread.
2. Yellow capsicum (called bell pepper in the US I believe?) avocado and rock salt on the same bread
3. Hommus with homemade cherry tomato chutney and rock salt. Probably the best one!
Dutch mints. Mints seem to help with the nausea that accompanies my migraines. I had to hold off buying the whole Dutch section at the supermarket... stroopwafels, chocolate hagel, almond fingers... *drools* (... I'm half Dutch if you're wondering)
Another snack, self-explanatory.
Chocolate avocado mousse - this is a recycled picture, the one I had today didn't have the fancy fruit going on.
Soy cappuccino, caffeine helps dull the pain.
Oats... recycled pic. This morning's oats were actually cranberry & vanilla ;P
Dinner... I know everyone's probably sick of seeing sweet potatoes with nut butter.. but that's what I had for dinner, so there :P