I've been having an annoying problem post-workout a lot of the time lately. If I run more than about 40 minutes or do a medium - hard run, I wind up with a
full blown headache and bad nausea
- unless I get serious with
post-workout recovery
:
- Stretch straight away.
- Drink diluted gatorade immediately while putting legs up on wall.
- Eat high protein item within 30 mins of coming back (Lately has been my peanut flour slice thing)
- Eat a spoonful of vegemite (super salty + B vitamins)
- Have a cold shower / ice shins
If I miss doing this, the sickness comes. It's kind of strange, you would think this would only happen after particularly difficult workouts, but it pretty much happens on any run unless it's super easy. I don't think it's
dehydration
, because I always make sure I have a big cup before I go and drink at least two or three after my electrolyte drink when I get back... then I thought it was the salt thing hence why I started having vegemite - which might be key? I don't know... anyway maybe I don't get enough salt in my diet generally. So I had Subway for lunch today, because everyone knows their bread is super high salt.
So without further ado (adieu?) here is Wednesday's foodstuffs...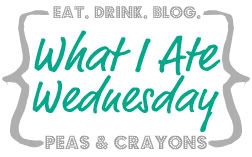 Had the most simple breakfast ever. Kashi Golean with rice milk. That's it!
Went to the gym for a 30 min weights sesh + 3 km run, and afterwards downed this protein bar. Delicious!
Wanted to wear these shorts. I love these shorts - but I can't find a shirt that really goes with them! :( Maybe I'll have to go shopping again to find one ;) But what colours?!
Instead wore this shirt (with dark grey shorts) - this shows the heat / humidity here at the moment!! I'd like to believe it was my effort but I think the heat held most of the reason for the uber sweat.
This was lunch - almond spread & blackberry jam on wholemeal grain toast. Super inventive...
The other piece of bread held a baby banana with almond spread & cinnamon. So good!
Well, as for my
November challenges
... the eating more vegetables is going so so. I made dinner last night and it was a huge salad with tuna & goat's feta cheese.
The 100km for November? I've done 13 km so far on Nov 3 which is a great start, but I've found out that the work I'm doing for 2 weeks at the end of November will be out field camping, so there won't be much opportunity for ANY kind of exercise, let alone running. I've decided I'll just do what I would have done in the weeks I'm home and see how I go. (Plan was Week 1 - 24km, Week 2 - 26 km, Week 3 - 27 km, Week 4 - 23 km) or thereabouts.
And facing things that scare me - fighting in the kickboxing tournament this Saturday - will definitely recap that on here and how I go. I'm not expecting to win or even do great but I'm in it for fun and anything else is a bonus!
I really miss my blender and its ability to make creations like the above. :(
I've really enjoyed reading everyone's
halloween
posts and about things like how big
pumpkin
is!. We don't do any of that stuff here really so it's been really interesting to me. I never would have thought of having a coffee with pumpkin pie spice (which I'm assuming is kind of like nutmeg & cinnamon together?!). That sounds so delicious!!! And all the cool foods made into shapes of scary stuff. Love it!
And wow, I just realised how close it actually is to Christmas!! Oh noo....
P.S. I hate Summer and I am jealous of everyone that has winter coming up.