As I've mentioned in my
previous post
, I spent the last two weeks in the bush eating
very
processed food
and doing
no exercise
, so today's and yesterday's food has been an attempt to return to my usual diet. I think after eating crappy food for two weeks it's been a little more difficult than I anticipated - I've actually craved two minute noodles!
Anyway here's some new things I found at the store today - MAN did I miss grocery shopping - plus it was like CHRISTMAS with all these exciting new products.
Rice crackers, a healthy cookie (fruit & nut) and caramel rice cakes in SINGLE SERVES! Awesome...
Chai Latte sachets in berry flavour. I plan to probably mix these up with some oats rather than drink them ;)
Um, this doesn't fit the "healthier eating" bill, but I have never seen this in Australian supermarkets so it had to be bought, and had to be sampled as soon as I came home - with a spoon.
OK, so here's what I ate today: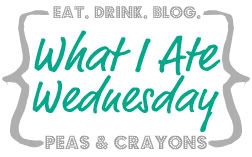 BREAKFAST:
Banana protein sachet + 5 or 6 frozen raspberries + sprinkle of oats + greek yoghurt.
SNACK 1
RAW food bar - spirulina & cashew +
My favourite iced tea guzzled in the car on the way to the shops.
LUNCH:
Salad made with leftovers: Couscous salad, some mince, a boiled egg, a sprinkling of feta cheese, baby spinach, peas, cherry tomatoes, carrot, asparagus.
The cherry tomatoes in my backyard have gone mental:
This is a much bigger bowl than it looks like... and there's still a bowl's worth on the bush that I couldn't be bothered picking!! They taste AMAZING, like candy almost...
SNACK 2:
Banana with PB + an unpictured apple.
My unhealthy vice. No matter how many times I want to quit, it never happens...
What I worked: Nothing yet... I'm still trying to get my mojo back after two weeks of inactivity :( Hopefully I'll have the energy / motivation to go for a run later on. If not I won't beat myself up about it.
In the meantime... anyone have any good recipes for mountains of tomatoes?