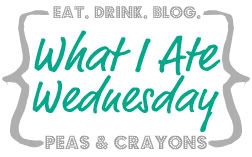 Woo, time for some more What I Ate Wednesday shenanigans thanks to Peas & Crayons.
So I didn't have much that was of interest today, apart from a bit too much of this (recycled pictures...)
Three coffees.... and one tea.
Peanut butter and apricot jam open sandwiches
And I had OIAJ again...
So... today's entry will be What I'm going to eat next Wednesday :) Next Wednesday I will be doing a hike of about 40 km (this will be the longest day of a five day hike), so I've planned quite a few yummy things to eat, although I suspect I may be too exhausted to eat at the end of it :P
Here's some of the things I've thought of so far:
A few nut bars
A big pack of dried fruit - includes prunes, apricots, apples, pears and peaches. I think I might pick up some cranberries and goji berries too, and some seeds and nuts and mix it all in together. Maybe some dark choc chips too??
A couple of RAW energy bars - I have a few of these stashed away, the top one I think has spirulina and stuff in it, so that's one way to get your greens without a fridge!!
A pack of couscous, mum bought this for me... I was planning on going all raw and natural foods so that I feel good (+ added bonus of not having to carry a stove or matches) but this might be nice one night when we're at a proper camp...
Rice cakes!! Planning on covering them with PB...
This awesome looking raw muesli I found in the health food store the other day. It has sprouted grains and stuff and is made locally. Yum.
The all important ingredient... one with a plastic container. And of course I've already started eating some to "lighten" the container for next week ;)
I may or may not take these... they tend to be on the heavier side, so if I do take some I will eat on the first few days.
I'm also thinking the first morning when I'm at home I'll have for breakfast: avocado on toast with vegemite, and a berry/spinach smoothie... to try and get some good nutrients in me before we begin :D
So if you're reading this... do you have any other suggestions for deliciously healthy food that can be taken on the trail, and doesn't weigh much?
On another note... I'm struggling a lot with my motivation lately. I was going to join a local running group today, but then I psyched myself out by the fact that "everyone will be way better / faster than me and look at me like, 'what is she doing here?' and didn't go. I then didn't have any motivation for anything else either.
I think I'm just really overworked from uni that I just want to sit and do absolutely nothing once I'm done. I spend so many hours studying that when I actually get a chance to do something else, it's like, I don't want to. The lack of parking at the gym lately is making it difficult too. As Nike says though, I should JUST DO IT. I guess today I might just give up on it and have a rest day, relax, watch some TV and then begin again tomorrow.