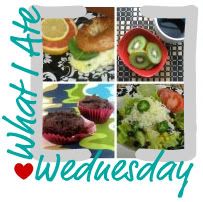 I love What I ate Wednesday. It encourages me to eat more of a variety of food :D
So here's my eats from today... plus one pic from yesterday because it needed documenting ;) I've been in a bit of a
rut lately
which has led me to be totally uninterested in food in general - I've had to force myself to make food. Somehow it's led me to making and eating totally different food to what I normally would... and some of it has been pretty great.
I made this for breakfast yesterday. I call it "breakfast trifle". I don't know if Americans eat trifle...?? It's usually cake, jelly, fruit and custard with whipped cream on top, I think, but can be modified a lot. Anyway, mine included:
blueberries
strawberries
"diet" peach jelly (as in the gelatinous stuff)
and "custard" which was... umm... cashew spread, greek yoghurt and a banana whizzed up.
Believe it or not this totally tasted like yoghurt! Anyway a pretty random breakfast - but so good!
This morning I was up at 6.00 am to drive to uni... I have to get up that early or I have to spend hours looking for a car park, and I just can't be bothered with that. So today's less inspired and quick breakfast - instant oats!
I did add a spoonful of cashew spread to spice it up, though (I so love overcooked oats when it goes all dark in the corner...)
When I got to uni (7.30 am) I was feeling pretty tired. I didn't get my usual eight hours of sleep, and anything less than that makes me super cranky. So I got a cappuccino (plus it's half price this week, so how can I say no?)
I ate this after the cappuccino to 'freshen the breath' ;P You can see the riveting chemistry study that consumed my hours from roughly 7:30 am - 1:30 pm. Organic chemistry is evil. I pretty much sat in the one spot in the library all that time, only moving for coffee and the toilet. It was super fun.
I was hungry again in like, 30 minutes after the coffee... so I ate these both in quick succession! (Brain food?)
Quick lunch grabbed before sitting my test at 2pm, salmon sushi & a selection from the salad bar. Think there was pumpkin, capsicum, onion, couscous, spinach... dunno what else, random stuff!
Then I sat my test, after waiting for one hour!!! (There was like 100 people trying to sit the same test in a tiny room, so I had to stand in line... ugh!) I got 85% which I am fairly happy with, as it was a difficult test. I may have dreams about 1,2-dichloro-cyclo-hex-2-ene tonight or something though...!
On the way home there was traffic because of a car accident. Seriously, every single time I drive to uni there is a car accident. I usually take the train because traffic makes me crazy. So I got home at 4.30 and was starving, I immediately dug into one of these that I made yesterday...
Not sure what to call it - peanut flour apple apricot oat bread/brownie/cake? They were based on a banana sultana bread recipe, but they came out super fudgey. I won't share the recipe because they aren't that great... like, the batter tasted AWFUL and I almost threw it out, but I added stevia quickly before putting it in the oven and now they taste good :) Which is good - because I doubled the recipe!
I also had a bunch of roasted chickpeas.
And an apple with some water.... (I was sooo hungry..)
Then I went for a walk for about 30 mins. I wasn't feeling up to a workout since I was tired - plus yesterday I went for an hour walk, 20 min run & kickboxing - which ended up being quite a difficult session!
Dinner was light after that with spinach, beetroot, cauliflower and carrots... but then I followed it with the best dessert ever...
Chocolate Avocado Banana Pudding!
I've had chocolate avocado pudding heaps of times before with just the avocado and cocoa powder, but this time I mixed in a banana, some protein powder, a splash of almond milk, and a tsp of greek yoghurt and it was soooooooooooooooo good. Then obviously strawberries and blueberries - I even prettified it for the blog ;P
This picture makes me drool.
I kinda want to jump on the outfit bandwagon as well, because honestly most of the time I am way too lazy and just wear jeans and a shirt and don't make much effort. I think if I take pics of my outfit it might encourage me to make the effort?
Just for my own curiosity!