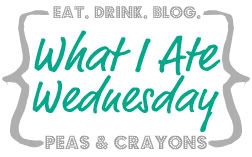 I forgot to give credit where credit was due on the first one, newbie mistake :) But cheers to Peas & Crayons for thinking up this idea, I have found many cool blogs to follow through this concept. Anyway, on to what I ate today...
I had an empty cashew spread container... so I tried my first oats in a jar :D It was simply 1/2 cup oats, 3/4 cup soy milk, a sprinkling of chia seeds and cinnamons, and some raisins!
Mmm, those raisins were delicious in the morning.
Halfway through... yes don't mind my pyjama pants in the background ;)
Yeah, this ain't food! Here's my AWESOME Nike Lunarglide + 2 shoes... that I bought a week before Lunarglide + 3 came out... Grr... but still love them!
After run snack... vanilla protein powder mixed with about 100grams of mango yoghurt. I don't like this particular brand of protein powder... it was an "all natural" one, but there's some strong flavour in it I really dislike...
Upon lunch time, I looked in the fridge at this sorry state of food :( Severe lack of vegetables!! I didn't want those vegie sausages in the forefront either as I had them yesterday.
So I improvised and made THE BEST FRENCH TOAST EVER.... I used Woolworths Four Seed Ploughman's bread, with two eggs, a sprinkling of soy milk, loads of cinnamon, tsp cocoa powder, a splash of maple syrup, sprinkling of chia seeds and LSA (linseed, sunflower seed, almond meal) mix as the mix to dip the bread in. It went really dark in the pan which I originally thought was because it was burnt, but noo, that was the cocoa... it was perfectly cooked! Out of the pan I put on some apricot jam and a teeny bit of vanilla ice cream. I don't know what it was, but this was so yum!
Still hungry afterwards (somehow) so had a yummy yellow pear... while studying exciting anatomy. I also ate some 70% dark chocolate and had a hot chocolate & a coffee throughout the day, and dinner is forthcoming...
Had a really good run this morning. Had planned a 30 min
Fartlek
run... I had it all set up in my Runkeeper app to do this:
5 mins warm up
then 10 times this:
1 min x slow
2 min x steady
30 seconds x fast
then cool down.
I somehow decided that all that added up was 30 minutes... hmm, no, try
45 minutes!
!! Obviously I suck at maths. So anyway 30 minutes was what I knew I could do comfortably without dying... So at 41 minutes I cut it short and practically limped home!! :) Haha. It was good fun though... I ran on the beach for about 200m, decided it was too hard (as the tide was really far in so not much sand to run on!), then ran on the footpath near the beach, then a park, on the road, back to another park where I finished it off.
That's the only exciting thing I've done today... the rest of the day has been filled with study and procrastination :D
Unsure of dinner at this stage...