I've been pretty busy catching up with uni work, I think I'm almost there - but understanding chemistry seems to take me a long time!!
So anyways... today was Wednesday :D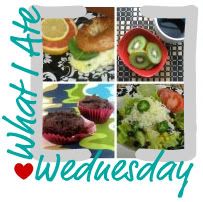 Thanks for hosting the party Peas & Crayons :D Enjoy it every wednesday!
This is kinda gonna be some random eats from the last couple of days since I forgot to photograph breakfast this morning (was a yoghurt, oats and berries mix) and most of my snacks...
Yummy chicken in a can (I know, sounds bad but tastes great!)
It went on top of a small can of four bean mix, steamfresh veg (carrot, broccoli & cauliflower), some mushrooms, red capsicum and a small amount of cheddar cheese. Trying to make myself have more dairy... testing the lactose intolerance out!! This lunch was delish.
This was a RAW bar... apple cinnamon flavour I believe... I actually ate this yesterday ;)
I eat these like way too often...
Here's a pic from the City 2 Surf website which had me on it! Ha, barely, but I'm the one behind the insanely tall bloke in the white shirt with red bits, wearing blue shorts and a blue hat... (It's like Where's Wally... but one of my mates actually spotted me!)
Anyway, on to my workouts lately... well since Sunday's 12k took it out of me a bit, I did yoga on Monday and went for a light swim yesterday. Today I was DYING to go for a run so I let myself... probably a dumb idea since my shins are STILL playing up... but I took it really slow and only did 3km. It was great though :D Debating whether to do a weights class tonight, and then most likely I shall do spinning tomorrow morning... I'm thinking I need to take a break from running for a bit to let my shins heal properly but it's so hard not to run. Maybe when I go for the hike in two week's time it will give them a break?? Although that's still using my legs... hmm...
Now I plan on eating this delicious oat bar I made the other day... unpictured, but just imagine a yummy oaty bar with coconut on top, and bananas and raisins throughout... undercooked so very gooey!